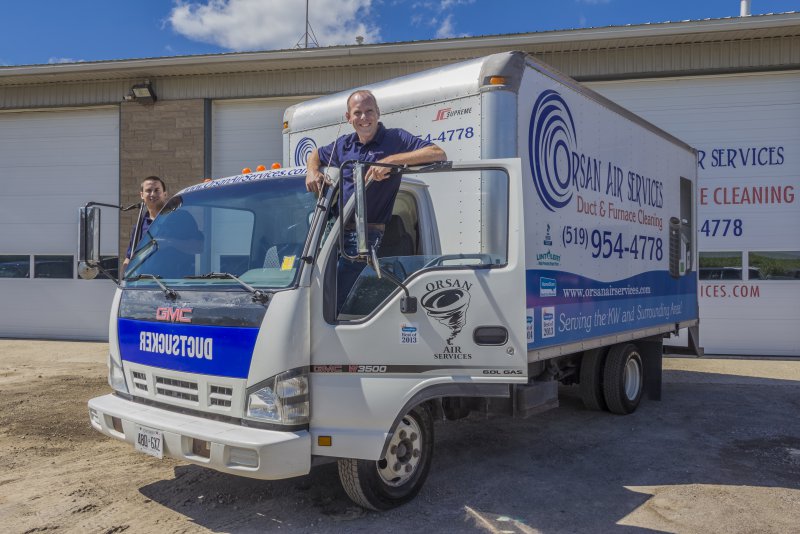 We at Orsan Air Services value your Feedback.
Click here
to write a review of your experience with us!
Elisabeth from Kitchener
We have an older home and with two young children there is always a concern for a safe and healthy environment. Orsan Air Services did a thorough cleaning job, now we can breathe easy again!
Steve from Guelph
We had Taylor and Tom do our house after a major reno, on day 1 we already felt a difference in air quality. I was home at the time and was pretty astonished at the sounds that they were sucking out of my vents. They have really heavy duty equipment and are passionate about what they do. I would recommend to anyone needing an honest and thorough clean of their HVAC
Frances Pedder from Guelph
Taylor was polite, professional, knowledgeable and thorough. We have had our ducts and dryer vent cleaned before and did not realize that it was not being done properly. After having Taylor from Orsan Air Services perform these services it is obvious to us that you get what you pay for. We will most definitely use this company again. They were great.
Patricia from Waterloo
I had been suspicious about duct cleaning but after using Orsan Air, I am a believer. My home is less dusty and the stale smell is gone. I was very pleased with Franko's professionalism and great job! I will definitely use this service again and have recommended this company to my family and friends.
Kevin from Kitchener
Orsan cleaned our furnace and front ducts. They did a good job, I found them to be professional and quick (they were in and out) and fairly tidy. I would recommend them.
0 of 0 people found this review helpful.
Leanne from Brampton
Orsan Air's service was really good, the worker who came was fast, efficient and explained what he was doing. The ducts were a big mess before and look great now.
Mark from Toronto
My house is supported on wood burning heating and I don't think a cleaning had been done in about 23 years. It was a great one man team and he was very knowledgeable. I was beside him the whole time and he was exceptional, highly recommend.
Orsan had come to our door about two years prior to us hiring them. By the time we had them in to clean our toddler had managed to put toys and an apple down the vents so it was time. They sent a young guy out to do the cleaning and he was a nice guy. They also cleaned the furnace fan and I've noticed the air flow in the house was a lot better afterwards. They had to put a couple of holes in the ducts to do the cleaning, which I guess they have to do; they patched them up but sometimes they make a whistling type noise where the air leaks out. Over all we were happy.
L from Toronto
They did a really good job. They had great customer service. We hired them to do a duct cleaning but they checked out our furnace too and said we didn't need to clean it yet. I was happy with the work that was done.
Tammy from Kitchener
I hired them to do duct cleaning because it had never been done before in my home. They sent someone out to do an estimate and gave me a price. I booked them to come in and do it. They were fine they cleaned out the ducts and made sure there were no vents that might have been hidden that they may have missed. They also took a good look at the furnace to make sure everything was ok.
Betty from Cambridge
Orsan are very quick and efficient when you phone them. They are punctual and do a good job. We have hired them to clean the furnace and the ducts and they did a fine job.